5 Warning Signs of a Brain Tumour
16,000 people a year are diagnosed with a brain tumour, and they kill more children and adults under the age of 40 than any other type of cancer. Yet awareness of the symptoms remains low, with many people being diagnosed too late for treatment to be effective.
So, in support of Brain Tumour Awareness Week (29 Oct – 5 Nov), we're sharing some of the most common warning signs to look out for.
​Depending on where in the brain a tumour is located, people may also experience a wide range of other symptoms too – for a full list and further information, we recommend checking out Cancer Research UK's website.
If you do experience any of the symptoms described here, it's important to go and see your GP – they probably aren't caused by a brain tumour, but if they are, asking the question and getting checked out and diagnosed early could save your life.
To learn more about Brain Tumour Awareness Week and brain tumour research, visit braintumourresearch.org
---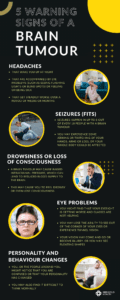 The Latest from our Blog…
Check out our blog for all of the latest news, events and updates from Medigold Health.
With November being Men's Health Awareness Month, we took the opportunity to catch up with some of our male colleagues here at Medigold Health, to get their take on why it's important for men to engage more with their health, the challenges that often prevent them doing so, and their[...]

Read More

As proud signatories of the Armed Forces Covenant and holders of the Defence Employer Recognition Scheme Bronze Award, Medigold Health are honoured to count a large number of former military personnel among our colleagues.   With people and communities across the nation preparing to come together this weekend to pay tribute[...]

Read More

An Occupational Health Assessment (also known as a sickness absence referral, management referral or occupational health referral) is a medical examination carried out by a qualified Occupational Health clinician to assess a person's fitness for work and their capability to fulfil the duties and responsibilities of their role safely and[...]

Read More
Can't find what you are looking for?