We are proud that Medigold Health's foundation is a powerful genetic code, designed by our people, encapsulating the values that define who we are and what we do. Our genetic code underpins the way we work, the expectations we set for ourselves, and the high standards we strive to uphold. At every touchpoint with Medigold Health, you can expect to experience the genetic code at work.
Under the microscope
A close-up examination of the code reveals our ambition to deliver corporate health services which produce robust benefits for your organisation. Work with us to achieve:
A better understanding of the health of your workforce
Improved intelligence enabling informed decision-making
The ability to shape your organisation using robust data
The power to boost the wellbeing of your employees
Greater efficiencies leading to reduced costs.
Prevention is better than cure
We offer innovative ways to promote healthy lifestyles within your organisation. From introducing a mental health strategy, running a health surveillance programme or occupational health referrals, we can help you to put good health at the heart of your business.
Building partnerships
Over the last 20+ years, our business has been built on a solid foundation of trusted relationships and meaningful partnerships. We believe that working collaboratively together generates the best results.
Harnessing the power of technology
We use market-leading technology to bring you powerful digital solutions that provide quick and easy access to management information that will help you to understand and shape your organisation and nurture your employees as your most valuable asset.
Quality matters
Our genetic code sets out a blueprint for the way we expect our organisation to behave, always maintaining the highest standards of excellence. The Medigold Health Standard provides a benchmark for quality of service and our genetic code illustrates the integrity at the heart of our brand and our sincere commitment to improving your business.
Our Story
Our pioneering founder Dr Mike Goldsmith set up Medigold Health with a mission to improve the world of work by helping organisations to look after their most valuable asset: their people. Thanks to his background as an occupational physician and adviser to government, Mike could see the unassailable benefit of caring for, and nurturing, employees, securing their loyalty and helping them to make a positive contribution to their organisation.
It has always been Mike's belief that employers have a responsibility to provide access to good health care and to ensure that their workforce is always well looked after. He was convinced that, in setting up Medigold Health, he could make a step change in the ability of employers to safeguard wellbeing in the workplace.
When Medigold Health was formed in 1998, it was one of just a handful of businesses offering occupational health and employee wellness services. From humble beginnings and a team of just five, Medigold Health has grown into a £33M business employing 530 staff across more than 60 locations from its headquarters at Queensbridge in Northampton.
With more than 2,000 clients looking after 2 million individual employees, Medigold Health employs over 200 occupational health clinicians running 100+ clinics across the UK. Always at the forefront of innovation, Medigold Health also operates over 30 mobile screening units improving its reach and delivering better access for its customers.
The business remains true to its original values as a family business with Mike's son Alex Goldsmith now at the helm. Alex joined the business from a career in investment banking in 2006 to help his father during a period of ill health. Fourteen years later, and now CEO, Alex remains committed to the employee wellness sector and continues to find its positive effect on the wider community extremely rewarding.
Supported with investment from the Business Growth Fund for ambitious entrepreneurs and SMEs, Medigold Health has been named by the London Stock Exchange as one of 1,000 Companies to Inspire Britain for three successive years since 2017.
My father started the business with a firm conviction that businesses could benefit enormously from taking care of their employees and investing in their health and wellbeing. Medigold Health sets out to offer a helping hand to organisations and provide them with the data, tools and solutions they need to ensure that their workforce is thriving. Workplace health challenges haven't changed a great deal over the years, but we are delighted to see a noticeable increase in engagement with the issues and are pleased to support the commitment of our clients to continuous improvement.

With this in mind, we have always been highly focused on innovation, harnessing the capability of technology to help inform and advise our clients, and showing them ways in which the evidence of the past can help them to predict the future based on scientific principles and robust data.

Medigold Health is strongly focused on quality because we believe in doing everything well. It has always been our ambition to be the best in the UK in our field so we pay great attention to detail, making sure that our technology always works, that our data is accurate, and that we deliver a first-class service to our clients.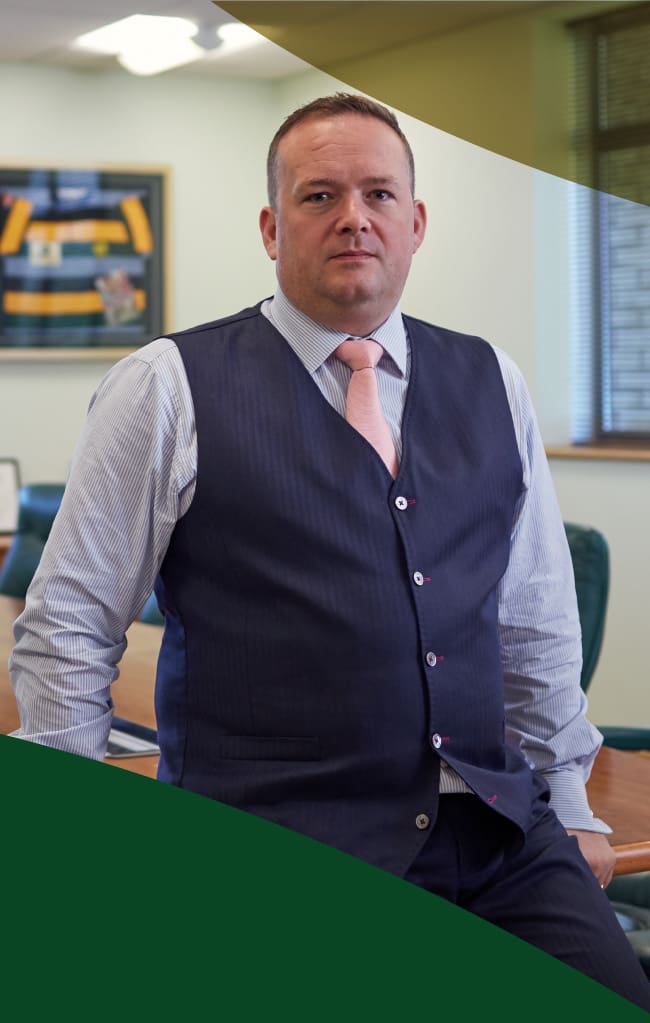 I am proud of the journey that we have made as family and the impact we've had on hundreds of clients and their teams. Of course, our commitment to improving workforce wellbeing also extends to our own team. I personally greet every new Medigold Health employee and welcome them to the business. I am keen to ensure that we always remain a warm and approachable organisation even as we continue to grow.
During the expansion of the business over the last eight years, we have strived to welcome new colleagues by adapting to accommodate them, without compromising our core values. These are outlined as part of our genetic code and you will see them at work in all your interactions with us.

We model the behaviours that we advocate to our clients because we know that nurturing our people forges loyalty and commitment and helps them to do their best work. Not only is this the right thing to do, but it also makes good business sense.