Happy 25th Birthday Medigold Health!
We're celebrating 25 years of successfully keeping people in work, safe and well.  
Friday 10th February is a very special day for Medigold Health, as it marks 25 years since the company was founded by our Life President, Dr Mike Goldsmith, in 1998.  
---
During that time it has gone through a staggering transformation, growing from a small team of four providing management referral assessments and pension medicals from a single site, to a workforce of nearly 700 employees across 65 locations offering an extensive portfolio of occupational health and wellbeing services to over 2.5 million people nationwide.   
In 2014, Mike's son Alex took over the reins as CEO. Under his stewardship, and with support and investment from BGF, the last nine years have seen Medigold Health undertake a series of highly successful mergers and acquisitions that have allowed us to expand both our service offering and our clinician base, helping us to become one of the leading and most trusted names in the OH industry.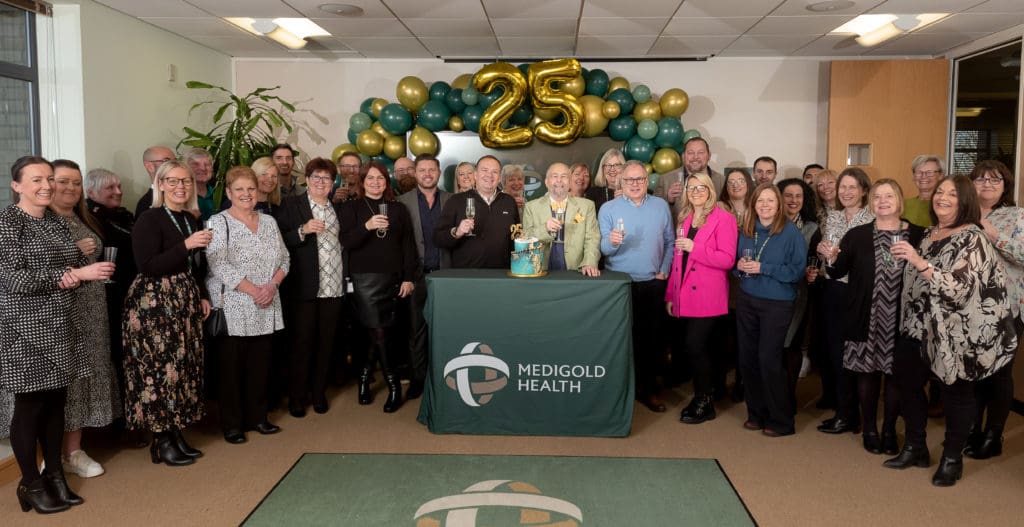 Along the way, we have garnered multiple awards and recognition, being named on the list of 1000 Companies to Inspire Britain three years running (from 2017-2019) and taking home the Big Business of the Year Award at the Northamptonshire Business Excellence Awards (NBEAs) two years in a row (in 2019 and 2020). Alex himself has also been recognised as one of the LDC Top 50 Most Ambitious Business Leaders and NBEA's Businessman of the Year for 2019.    
Let's Celebrate!
To commemorate this milestone anniversary, Mike and Alex invited former employees who had been part of the organisation from the beginning, as well as some of our longest-serving current colleagues, to join them for the obligatory cake-cutting ceremony and a celebratory afternoon of reminiscing at Medigold House, our head office in Queensbridge, Northampton.     
Reflecting on the momentous occasion, Alex said "As I look back on the past 25 years and reflect on everything we have achieved as a business, there is so much to be proud of. What undoubtedly brings me the most pride, however, is the fact that, even as we have experienced significant growth, we have always managed to retain our 'family business' ethos.  
We have always understood that our people are what make our business and that they are at the heart of everything we do. I am grateful that we have been able to build and maintain a culture where they really do feel like part of a family and where they feel supported and inspired to achieve their full potential and go that extra mile every day.  
I truly believe that translates into the service we deliver to our customers and has been key to our success. Looking to the future, with the passionate people we have behind us, I am certain that the Medigold Health Group will be able to continue taking bold steps forward, being better than yesterday and succeeding in our mission to ensure every employer across the UK has access to the high-quality health and wellbeing services they so vitally need, now perhaps more than ever before.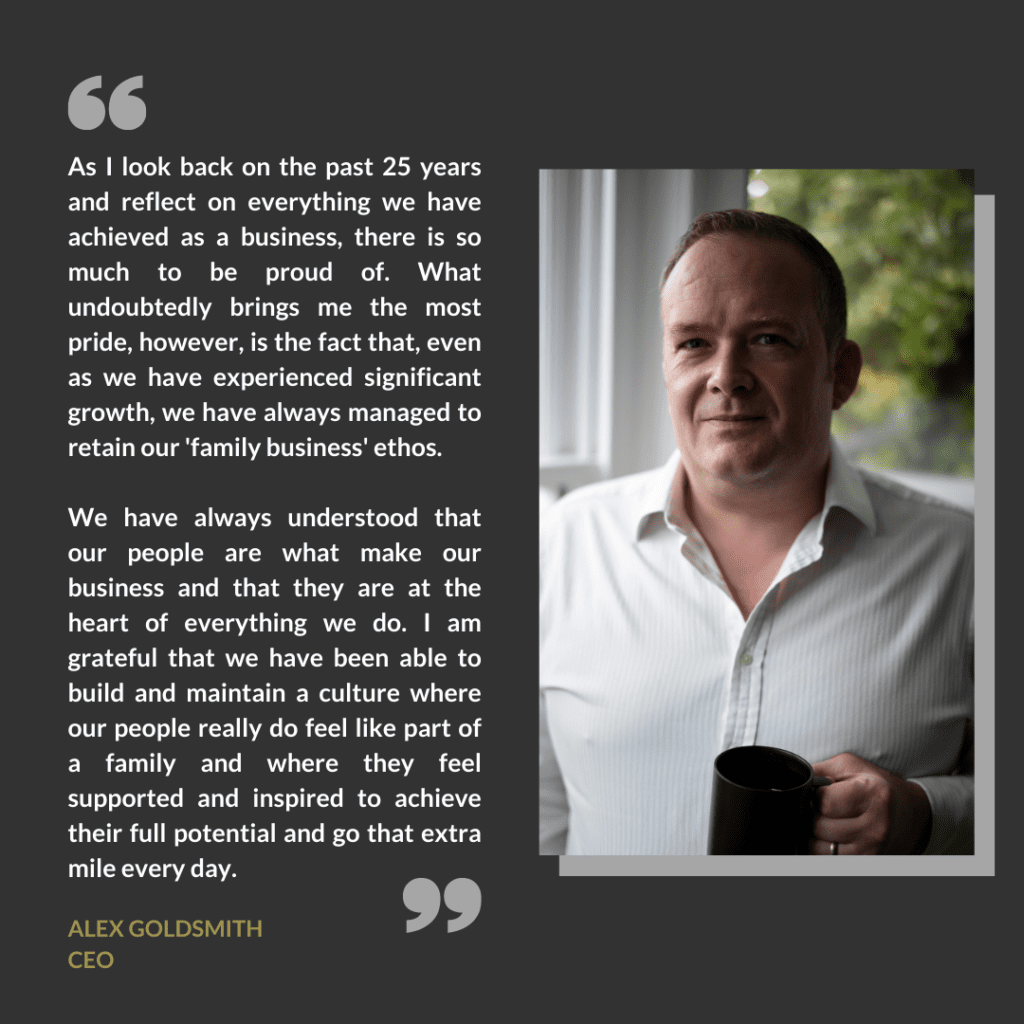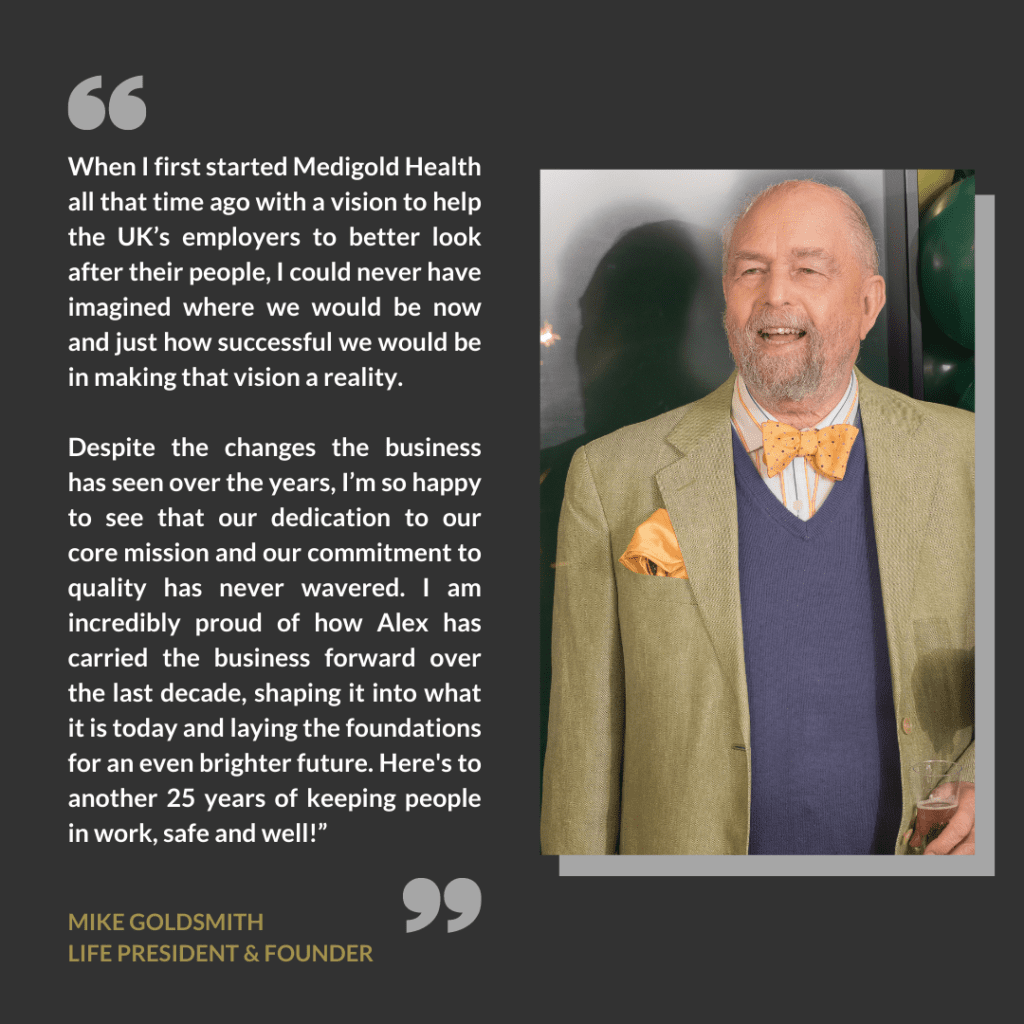 Mike Goldsmith added: "It was a real treat to catch up with some of the people who have been such a part of our company's story. When I first started Medigold Health all that time ago with a vision to help the UK's employers to better look after their people, I could never have imagined just how successful we would be in making that vision a reality.
Despite the changes the business has seen over the years, I'm so happy to see that our dedication to our core mission and our commitment to quality has never wavered. I am incredibly proud of how Alex has carried the business forward over the last decade, shaping it into what it is today and laying the foundations for an even brighter future. Here's to another 25 years of keeping people in work, safe and well!" 
Hear, hear!
 
Here's how we're toasting our silver anniversary year… 
We'll soon be releasing our 25

th

Birthday commemorative logo, which you'll see popping up on our website, communications and social media through the year.

 

We're also recording a Carpool Karaoke-style interview (thankfully without the singing!) with Mike and Alex Goldsmith, as they look back on the last 25 years of Medigold Health and share their insights on what it takes to run a successful business and the future of the Occupational Health industry.

 

We've got lots of 25

th

birthday themed content planned for our social media channels, including lots of fun facts and trivia, plus a series featuring past and present members of the Medigold Health family sharing their stories of working with us and chatting about how things have changed within the business over the years.
…we do hope you'll come along for the ride!  
The Latest from our Blog…
Check out our blog for all of the latest news, events and updates from Medigold Health.
Northamptonshire-based Medigold Health, a leading name in the UK occupational health sector, has today announced the successful acquisition of Health Management, in a move that will see the business become the country's largest independent provider of workplace health and wellbeing solutions.

Read More

Love is in the air in this month but it shouldn't just be reserved for your Valentine, because February also happens to be National Heart Month — the perfect time to think about showing your own heart some more love too.

Read More

We're celebrating 25 years of successfully keeping people in work, safe and well.   Friday 10th February is a very special day for Medigold Health, as it marks 25 years since the company was founded by our Life President, Dr Mike Goldsmith, in 1998.  

Read More
Can't find what you are looking for?