Didn't they do swimmingly?!
What an incredible 10 days it's been in the Tokyo 2020 Paralympic pool! We've been treated to some truly thrilling action and the GB team have pulled off some phenomenal performances, racing ahead to bring home an impressive collective haul of 8 bronze, 9 silver and 9 gold medals.
---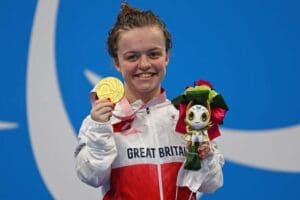 Huge applause to Plymouth-based Reece Dunn, who won two golds, a silver and a bronze and set two new world records in his individual events; to Bethany Firth, who secured a gold and a silver and also competed alongside Dunn, Jessica-Jane Applegate, and Jordan Catchpole to win a team gold and set another world record in the mixed S14 4x100m freestyle relay; and to Ellie Simmonds, who is such an inspiration to all the young swimmers competing at this games and has been so gracious throughout what is likely to be her last Paralympics.
Our most heartfelt congratulations, however, must go to Maisie Summers-Newton, whom Medigold Health have proudly sponsored for over three years now. Only narrowly missing out on a bronze in the women's S6 400m freestyle and 4x100m medley relay yesterday, she has been outstanding in this competition, deservedly walking away with two gold medals and smashing her own world record in the women's SM6 200m individual medley. What an achievement!
We can't wait to see what's in store for this amazing young athlete in the future, but for now, we just want to say a massive well done, Maisie, and we hope you enjoy some well-earned time off relaxing and celebrating with your family and friends back in Northamptonshire!
The Latest from our Blog…
Check out our blog for all of the latest news, events and updates from Medigold Health.
At Medigold Health, we are always looking for opportunities to promote careers in occupational health. Following the success of our 2021 summer work experience programme, we decided to run the scheme again this July, to give our colleagues' family members who have recently finished school the chance to gain valuable[...]

Read More

In our previous blog looking at the importance of wellbeing in the workplace, Medigold Health's new Director of Wellbeing, Dr Amrita Sen Mukherjee, explored the concept of workplace wellbeing and why investing in it can deliver multiple benefits for businesses. In this next instalment, she looks at some of the[...]

Read More

Over the last few years, the concept of workplace wellbeing has been steadily rising up the business agenda. But how important is it, really?

Read More
Can't find what you are looking for?