Didn't they do swimmingly?!
What an incredible 10 days it's been in the Tokyo 2020 Paralympic pool! We've been treated to some truly thrilling action and the GB team have pulled off some phenomenal performances, racing ahead to bring home an impressive collective haul of 8 bronze, 9 silver and 9 gold medals.
---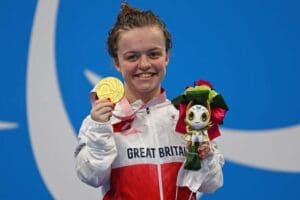 Huge applause to Plymouth-based Reece Dunn, who won two golds, a silver and a bronze and set two new world records in his individual events; to Bethany Firth, who secured a gold and a silver and also competed alongside Dunn, Jessica-Jane Applegate, and Jordan Catchpole to win a team gold and set another world record in the mixed S14 4x100m freestyle relay; and to Ellie Simmonds, who is such an inspiration to all the young swimmers competing at this games and has been so gracious throughout what is likely to be her last Paralympics.
Our most heartfelt congratulations, however, must go to Maisie Summers-Newton, whom Medigold Health have proudly sponsored for over three years now. Only narrowly missing out on a bronze in the women's S6 400m freestyle and 4x100m medley relay yesterday, she has been outstanding in this competition, deservedly walking away with two gold medals and smashing her own world record in the women's SM6 200m individual medley. What an achievement!
We can't wait to see what's in store for this amazing young athlete in the future, but for now, we just want to say a massive well done, Maisie, and we hope you enjoy some well-earned time off relaxing and celebrating with your family and friends back in Northamptonshire!
The Latest from our Blog…
Check out our blog for all of the latest news, events and updates from Medigold Health.
We are thrilled and extremely proud to reveal that Medigold Health has made it into Grant Thornton UK LLP's Northamptonshire Limited Top 100 Companies list for 2021!

Read More

Research conducted by Public Health England and various alcohol charities over the last 18 months has shown that levels of alcohol consumption increased significantly throughout the pandemic, with more than a quarter of people reporting that they had drunk more during the lockdowns.

Read More

'Refusing to have an alcohol or drug test is treated the same as a positive test.' 'Passive cannabis inhalation can cause a positive drug test result'. There are many misconceptions around alcohol and drug testing, and over the years we've heard all sorts of myths, but which are based in[...]

Read More
Can't find what you are looking for?