Occupational Health Jobs Fair
We are delighted to announce that one of our Occupational Health Physicians, Dr Sarwar Chowdhury, and our esteemed Medical Director, Dr Gareth Williams, will be speaking at the Society of Occupational Medicine's Occupational Health Jobs Fair taking place online today, Wednesday 22nd September.
---
During his presentation, '𝘞𝘩𝘢𝘵 𝘢𝘳𝘦 𝘳𝘦𝘤𝘳𝘶𝘪𝘵𝘦𝘳𝘴 𝘭𝘰𝘰𝘬𝘪𝘯𝘨 𝘧𝘰𝘳?' Dr Williams will be discussing what it is like to work for a leading Occupational Health provider like Medigold Health and providing an overview of the background experience and skills that we look for when appointing new clinicians. He will also be exploring the development opportunities available for doctors who are looking to progress in their careers.
In '𝘔𝘺 𝘰𝘤𝘤𝘶𝘱𝘢𝘵𝘪𝘰𝘯𝘢𝘭 𝘩𝘦𝘢𝘭𝘵𝘩 𝘤𝘢𝘳𝘦𝘦𝘳', Dr Chowdhury will provide a general overview of Occupational Medicine as a career for doctors and the different routes into the specialty. He will also talk about his own experience, focusing on his journey to achieving Accredited Specialist in Occupational Medicine status, the support and training he has received from Medigold Health, and his future goals.
If you're considering a career in the OH sector, the Occupational Health Jobs Fair is definitely an event not to be missed! Hosted in partnership with the National School of Occupational Health, the fair is completely free to attend and there's still time to register – simply follow the link below to find out more and book your spot!
https://www.som.org.uk/civicrm/event/info%3Fid%3D379%26reset%3D1
Dr Williams and Dr Chowdhury will look forward to seeing you there!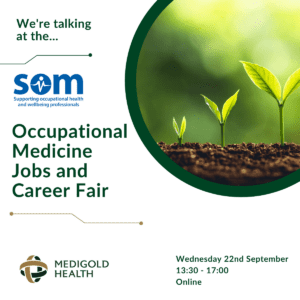 The Latest from our Blog…
Check out our blog for all of the latest news, events and updates from Medigold Health.
At Medigold Health, we are always looking for opportunities to promote careers in occupational health. Following the success of our 2021 summer work experience programme, we decided to run the scheme again this July, to give our colleagues' family members who have recently finished school the chance to gain valuable[...]

Read More

In our previous blog looking at the importance of wellbeing in the workplace, Medigold Health's new Director of Wellbeing, Dr Amrita Sen Mukherjee, explored the concept of workplace wellbeing and why investing in it can deliver multiple benefits for businesses. In this next instalment, she looks at some of the[...]

Read More

Over the last few years, the concept of workplace wellbeing has been steadily rising up the business agenda. But how important is it, really?

Read More
Can't find what you are looking for?