Occupational Health Jobs Fair
We are delighted to announce that one of our Occupational Health Physicians, Dr Sarwar Chowdhury, and our esteemed Medical Director, Dr Gareth Williams, will be speaking at the Society of Occupational Medicine's Occupational Health Jobs Fair taking place online today, Wednesday 22nd September.
---
During his presentation, '𝘞𝘩𝘢𝘵 𝘢𝘳𝘦 𝘳𝘦𝘤𝘳𝘶𝘪𝘵𝘦𝘳𝘴 𝘭𝘰𝘰𝘬𝘪𝘯𝘨 𝘧𝘰𝘳?' Dr Williams will be discussing what it is like to work for a leading Occupational Health provider like Medigold Health and providing an overview of the background experience and skills that we look for when appointing new clinicians. He will also be exploring the development opportunities available for doctors who are looking to progress in their careers.
In '𝘔𝘺 𝘰𝘤𝘤𝘶𝘱𝘢𝘵𝘪𝘰𝘯𝘢𝘭 𝘩𝘦𝘢𝘭𝘵𝘩 𝘤𝘢𝘳𝘦𝘦𝘳', Dr Chowdhury will provide a general overview of Occupational Medicine as a career for doctors and the different routes into the specialty. He will also talk about his own experience, focusing on his journey to achieving Accredited Specialist in Occupational Medicine status, the support and training he has received from Medigold Health, and his future goals.
If you're considering a career in the OH sector, the Occupational Health Jobs Fair is definitely an event not to be missed! Hosted in partnership with the National School of Occupational Health, the fair is completely free to attend and there's still time to register – simply follow the link below to find out more and book your spot!
https://www.som.org.uk/civicrm/event/info%3Fid%3D379%26reset%3D1
Dr Williams and Dr Chowdhury will look forward to seeing you there!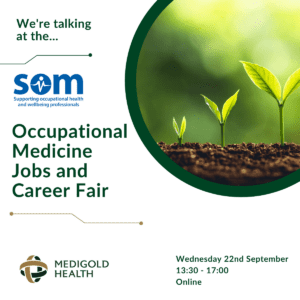 The Latest from our Blog…
Check out our blog for all of the latest news, events and updates from Medigold Health.
For us to stay happy and healthy and be able to perform effectively at work, maintaining good mental health is essential. Here, we share some general advice from our experts at Medigold Health Perform on the key questions to ask if you are feeling low at work and the positive steps you[...]

Read More

Led by the Mental Health Foundation, Mental Health Awareness Week (9-15 May) aims to get people talking more about mental health and how we can all enjoy better mental wellbeing. The theme for 2022 is loneliness.

Read More

Human beings are social creatures, and when there is a discrepancy between the social connections we want or need and those that we actually have, it can leave us feeling lonely. Loneliness can result in many different emotions, from stress and anger to anxiety and depression, and in the long[...]

Read More
Can't find what you are looking for?