𝗪𝗲'𝗿𝗲 𝘀𝗽𝗼𝗻𝘀𝗼𝗿𝗶𝗻𝗴 𝗧𝗵𝗲 𝗢𝗰𝗰𝘂𝗽𝗮𝘁𝗶𝗼𝗻𝗮𝗹 𝗛𝗲𝗮𝗹𝘁𝗵 𝗔𝗰𝗮𝗱𝗲𝗺𝘆!
At Medigold Health. we are proud of our record of supporting trainee Occupational Health Physicians to successfully achieve their Accredited Specialist/Consultant level qualification, as part of our commitment to investing in the future of this ever more vital area of medicine.
---
We are always looking for opportunities to help clinicians who wish to pursue a career in Occupational Health and to that end, we are delighted to announce that Medigold Health will be sponsoring The Occupational Health Academy's next cohort of medical education courses aimed at supporting new doctors prepare for the upcoming Diploma of Occupational Medicine exam in November 2021.
The courses, which are taking place across September and October and are run by Medigold Health's very own Dr Sarwar Chowdhury MBBS DOccMed AdvDipOccMed and Clare Fernandes, offer the perfect study aid, providing attendees with an in-depth overview and breakdown of the exam and portfolio requirements and the chance to pick up some top exam tips.
To find out more about the Academy and its courses, visit https://occupationalhealthacademy.co.uk/
May we take this opportunity to wish everyone sitting the exam this November the very best of luck – we can't wait to welcome you into the fold!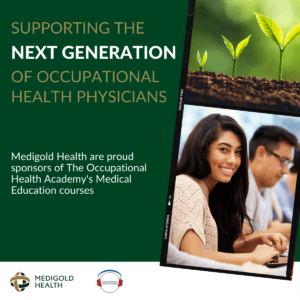 For further news on how we support the next generation of OH Doctors, checkout: https://www.medigold-health.com/occupational-health-doctors/
To find out more about the Academy and its courses, visit https://occupationalhealthacademy.co.uk/
The Latest from our Blog…
Check out our blog for all of the latest news, events and updates from Medigold Health.
For us to stay happy and healthy and be able to perform effectively at work, maintaining good mental health is essential. Here, we share some general advice from our experts at Medigold Health Perform on the key questions to ask if you are feeling low at work and the positive steps you[...]

Read More

Led by the Mental Health Foundation, Mental Health Awareness Week (9-15 May) aims to get people talking more about mental health and how we can all enjoy better mental wellbeing. The theme for 2022 is loneliness.

Read More

Human beings are social creatures, and when there is a discrepancy between the social connections we want or need and those that we actually have, it can leave us feeling lonely. Loneliness can result in many different emotions, from stress and anger to anxiety and depression, and in the long[...]

Read More
Can't find what you are looking for?