Stress Awareness Day: Different types of stress and how to manage them
Within the last year, 74% of people have felt so stressed that they have been overwhelmed or unable to cope.
2nd November marks Stress Awareness Day, a day dedicated to raising awareness of stress, its symptoms and the long-term consequences.
This blog delves into the different types of stress, the potential health effects and explores practical strategies to cope with stress effectively.
---
What is stress?
Stress is our emotional and physical response to pressure or a threat.
Regardless of whether the threat is real or imagined, immediate or far away, our bodies can't distinguish between the two and the threat can still cause a stress response.
When we are stressed, our body releases adrenaline, often called the 'fight or flight' hormone, which usually boosts or motivates us to act quickly.
However, too much stress can affect our mood, our body and our relationships – especially when it feels out of our control. It can make us feel anxious and irritable and affect our self-esteem. Additionally, experiencing long-term or severe stress can lead to physical, mental and emotional exhaustion, as well as a range of serious health conditions.
What causes stress?
Stress often occurs in our daily lives, especially when dealing with change or life challenges, and people have different ways of reacting to it. So, a situation that feels stressful to one person may be motivating to someone else.
Have you ever had a work deadline coming up and found yourself unable to sleep? Or have you found that the stress of wedding planning has ironically caused more arguments with your spouse-to-be? This is stress making its mark.
­­Research shows that the most common type of stress is work-related stress, with 79% of people saying they frequently felt stressed due to their job . However, there are many different causes of stress, and understanding the root cause can help you manage or even resolve it.
The most common causes of stress include:
Personal problems like relationship issues
Life changes, like moving house, having a baby or bereavement
Money worries, housing issues or employment problems
Health issues, either your own or those of someone close to you
Pregnancy and parenting
Loneliness or feeling isolated or unsupported
Our genes, upbringing and experiences as children or adults.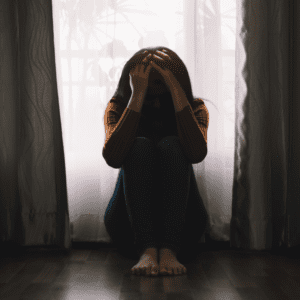 What are the different types of stress?
The American Psychological Association recognises that there are three primary types of stress — acute stress, episodic acute stress and chronic stress.
Acute Stress
Acute stress is short-term and is a reaction to a new or challenging situation. This could include nearly being in a car accident, doing a presentation at work, or even a result of something we enjoy, such as a roller coaster ride. Symptoms can include a racing heart, rising blood pressure, anxiety or headaches, although the emotional and physical symptoms should return to normal soon after the threat is over.
Episodic acute stress
Episodic acute stress refers to acute stress experienced on a frequent basis, for example as a result of working in a high-pressured job or feeling consistently overwhelmed in life.
With this type of stress, our bodies struggle to return to a relaxed, calm state, which can sometimes result in the individual giving up pleasurable activities or turning to unhealthy coping strategies, such as excessive alcohol consumption, smoking or overeating. All of this, in turn, can contribute to serious illnesses like heart disease or clinical depression.
Chronic stress
Chronic stress is the result of continuous stress that persists over a long period. It tends to arise from serious life problems that are likely beyond our control, such as long-term health conditions, poverty, war, racism or abusive relationships.
Symptoms of chronic stress can be overwhelming and debilitating and can include fatigue, changes in appetite, difficulty sleeping, headaches or difficulty concentrating. If stress is prolonged and left untreated, it can result in insomnia, obesity, heart disease, hypertension or diabetes.
Taking positive steps to better manage your stress levels is essential; however, if stress persists, it is important to consult a medical or mental health expert.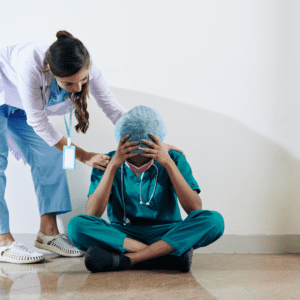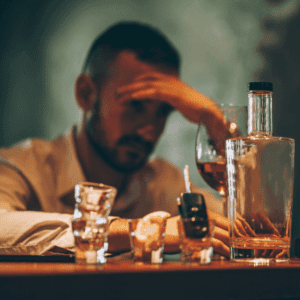 What are the symptoms of stress?
People have different ways of reacting to stress and symptoms are individual to each person. Sometimes you might not realise you are stressed but you might be showing symptoms that are unusual for you. It is therefore important to try to be aware of how your body presents signs of stress, so you can address the root cause before it has a chance to worsen.
Physical signs include:
Headaches
Muscle tension or pain
Chest pain
Fatigue
Change in sex drive
Stomach upset
Sleep problems.
Behavioural signs include:
Unhealthy eating patterns
Avoiding social activities or withdrawing from family and friends
Using alcohol or drugs to cope
Difficulty concentrating or making decisions.
Emotional signs include:
Feelings of anxiety
Restlessness
Lack of motivation or focus
Irritability or anger
Sadness or depression.
If you have any symptoms that you are worried about or you feel you have more severe stress, it is recommended that you see a GP.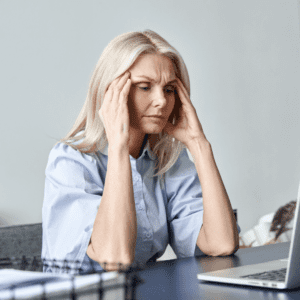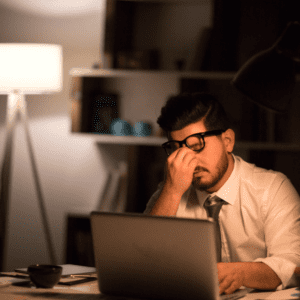 What are the consequences of stress?
Although some stress can be beneficial if managed correctly, prolonged exposure to stress can have serious repercussions on your overall wellbeing, including:
High levels of stress can have an impact on digestion, resulting in a range of issues such as irritable bowel syndrome, inflammatory bowel disease and ulcers.
Protracted episodes of extreme stress can lead to cardiovascular consequences due to prolonged increased levels of adrenaline and cortisol. This can cause hypertension (high blood pressure), which, if left untreated, can lead arteries to harden, leaving the heart under strain from insufficient oxygen and blood supply.
46% of people report eating too much or too unhealthily due to stress. When people are stressed, their eating habits can drastically shift. Some people may experience a decrease in appetite, while others may turn to bingeing or stress eating. Both scenarios can have severe long-term consequences, from the development of eating disorders or malnutrition due to lack of food, to obesity and health concerns caused by excessive consumption.
Anxiety disorders, such as panic disorder, panic attacks and PTSD, often arise due to stress and can lead to feelings of fear and apprehension, disrupting daily life and causing harm to physical health.
Depression often presents itself in feelings of hopelessness and low self-worth as well as loss of interest or passion in activities individuals previously enjoyed.  51% of adults who felt stressed reported feeling depressed and 61% reported feeling anxious.
Burnout results from long-term or severe stress and can lead to physical, mental and emotional exhaustion.
Fortunately, by being mindful of your stress levels and actively trying to reduce them, you can protect yourself from the lasting damage that prolonged stress can cause to your mental and physical wellbeing.
How can I manage my stress?
There are many ways we can improve our lives by creating better habits and developing techniques to manage our stress more effectively, including:
Exercise releases endorphins which are natural mood boosters and is an excellent way to help manage your stress.
Ideally, you should aim for at least 30 minutes of exercise five times a week. Whether you prefer going to the gym, a walk in nature or a relaxing yoga workout, exercise will help to clear your mind and allow you to focus on the present moment.
Prioritising sleep
Lack of sleep can exacerbate stress levels, leaving you more susceptible to feeling overwhelmed. Aim to get seven to eight hours of quality sleep a night and practice good sleep hygiene before bed to relax.
Constant exposure to technology and the digital world can contribute to stress. Taking breaks from your phone, computer and social media can help to decrease feelings of overwhelm.
Practicing mindfulness or meditation
Mindfulness involves focusing your attention on the present moment, without judgment. Allocate a few minutes each day to sit quietly, close your eyes and bring your attention to your breath or the sensations in your body.
Establish clear boundaries
Setting boundaries and learning to say no is crucial for managing stress. Allow yourself to decline commitments, both socially and in the workplace, that overwhelm you, and delegate tasks when possible.
Spend time with friends and family
Having strong and positive relationships with those closest to us is a great tool for managing stress. Spending quality time with friends and family – whether we're seeking advice or just enjoying time together – allows us to create a social support system we can rely on.
Professional assistance from therapists or coaches has the potential to help you form healthy stress management strategies and discover the root of your persistent stress. With this knowledge, you can develop an insight into your feelings, ultimately gaining control over them so you can lead a healthier life.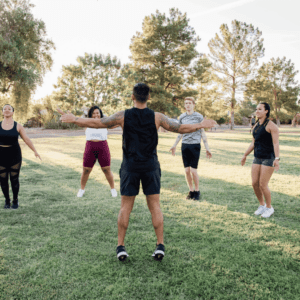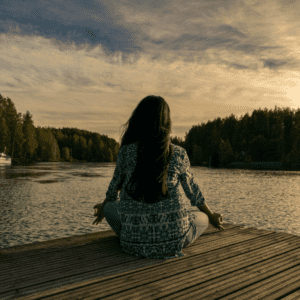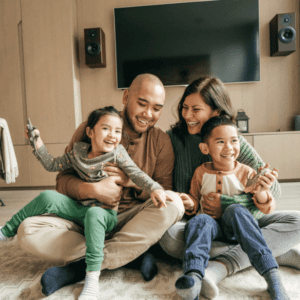 When should I seek professional help?
Stress is a part of life. What matters most is being aware of your symptoms and how you handle them.  However, if you or a loved one is feeling overwhelmed by stress, we recommend talking to your doctor. Many of the symptoms associated with stress can also be indicative of other health conditions; a doctor can assess these symptoms and exclude any underlying causes. Where stress is found to be the cause, your doctor may recommend a course of therapy or counselling to help you develop effective strategies for managing it.
Below is a list of organisations within the UK that you can contact for support if you or someone you know is struggling with feelings of stress or overwhelm.
Samaritans: A 24/7 helpline for anyone in the UK feeling overwhelmed or suicidal. Call 116 123 or email jo@samaritans.org.
CALM (Campaign Against Living Miserably): A helpline and website offering support for men in the UK who are struggling with mental health issues, including thoughts of suicide. Call 0800 58 58 58 or visit their website here.
Mind: A charity providing information and support for anyone experiencing mental health issues, including those thinking about suicide. Visit their website at here. 
The Mix: A free and confidential helpline and online support service for young people aged 13-25 in the UK struggling with any issue, including thoughts of suicide. Call 0808 808 4994 or visit their website here.
If you are keen to start investing more in the health and wellbeing of your employees and helping them to reduce their stress levels, Medigold Health is here to help, so get in touch and start your journey to better workplace wellbeing today.
The Latest from our Blog…
Check out our blog for all of the latest news, events and updates from Medigold Health.
The 3rd of December marked International Day for Persons with Disabilities, a day to raise awareness of individuals with disabilities and offer advice on how we can support them.

Read More

In the United Kingdom, a staggering 1.8 million working people suffer from work-related illnesses. This significant number highlights how important it is for employers to prioritise the health and wellbeing of their employees and the crucial need for Occupational Health services. If you've been asked to attend an occupational[...]

Read More

Within the last year, 74% of people have felt so stressed that they have been overwhelmed or unable to cope. 2nd November marks Stress Awareness Day, a day dedicated to raising awareness of stress, its symptoms and the long-term consequences. This blog delves into the different types of stress,[...]

Read More
Can't find what you are looking for?