Time to Talk Day 2021
Run by Time to Change, Time to Talk Day is aimed at getting the nation talking about mental health. This year's focus is The Power of Small, highlighting how a small conversation has the power to make a big difference.
---
Small but mighty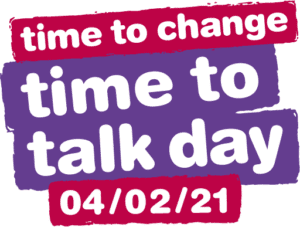 Talking is an incredibly powerful tool. Most of us do it every day about various different topics however, when it comes to talking about mental health, it can be much more difficult to instigate the conversation.
To mark this year's Time to Talk Day theme of The Power of Small, we have shared five simple tips on starting a conversation around mental health.
Ask twice
People often say they're fine when they're not. The simple act of asking twice with interest shows a genuine willingness to talk and listen. If you are concerned about someone, the next time they simply say, "I'm fine" try asking "Are you sure you're ok?"
Don't try to fix things
Although it can be tempting, try to resist the urge to offer quick fixes. Simply listening is often enough.
Be authentic
There is no right or wrong way of expressing things, the key thing is to be thoughtful, genuine and say what feels comfortable for you.
If you say something that doesn't sound quite right, simply stop and try again.
Talk about your own feelings
Being open and honest about your own emotions shows that it is ok to talk about feelings and may encourage the other person to open up.
Be patient
Sometimes, no matter how hard you try, the other person simply may not be ready to talk about how they are feeling. Be patient and respectful and don't try to push the conversation.
The fact that you have tried to talk to them about it may make it easier for them to open up when they are ready.
The Latest from our Blog…
Check out our blog for all of the latest news, events and updates from Medigold Health.
For us to stay happy and healthy and be able to perform effectively at work, maintaining good mental health is essential. Here, we share some general advice from our experts at Medigold Health Perform on the key questions to ask if you are feeling low at work and the positive steps you[...]

Read More

Led by the Mental Health Foundation, Mental Health Awareness Week (9-15 May) aims to get people talking more about mental health and how we can all enjoy better mental wellbeing. The theme for 2022 is loneliness.

Read More

Human beings are social creatures, and when there is a discrepancy between the social connections we want or need and those that we actually have, it can leave us feeling lonely. Loneliness can result in many different emotions, from stress and anger to anxiety and depression, and in the long[...]

Read More
Can't find what you are looking for?