We are finalists for the Employer of the Year Award!
It's that time again, yesterday, All Things Business announced the finalists for the Northamptonshire Business Excellence Awards 2021, which seek to shine a spotlight on the many exceptional businesses and inspiring and talented business people operating across the county.
---
Having twice walked away with the Big Business of the Year accolade (in 2019 and 2020), Medigold Health are delighted to this year be sponsoring this prestigious award, to show our support for other businesses who are achieving great things within the region.
We are also very happy to reveal that we have been shortlisted for the Employer of the Year award!
As a company who are dedicated to putting our people at the heart of everything we do, it's a real privilege to have been nominated in this particular category, which recognises businesses that have created a stimulating and supportive work environment and have demonstrated a real commitment to the welfare of the employees.
We'd like to take this opportunity to congratulate all of our fellow nominees – we can't wait to celebrate with you all, in person, at the big night in November!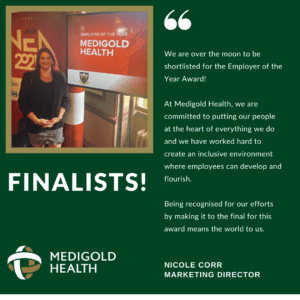 The Latest from our Blog…
Check out our blog for all of the latest news, events and updates from Medigold Health.
For us to stay happy and healthy and be able to perform effectively at work, maintaining good mental health is essential. Here, we share some general advice from our experts at Medigold Health Perform on the key questions to ask if you are feeling low at work and the positive steps you[...]

Read More

Led by the Mental Health Foundation, Mental Health Awareness Week (9-15 May) aims to get people talking more about mental health and how we can all enjoy better mental wellbeing. The theme for 2022 is loneliness.

Read More

Human beings are social creatures, and when there is a discrepancy between the social connections we want or need and those that we actually have, it can leave us feeling lonely. Loneliness can result in many different emotions, from stress and anger to anxiety and depression, and in the long[...]

Read More
Can't find what you are looking for?