We are finalists for the Employer of the Year Award!
It's that time again, yesterday, All Things Business announced the finalists for the Northamptonshire Business Excellence Awards 2021, which seek to shine a spotlight on the many exceptional businesses and inspiring and talented business people operating across the county.
---
Having twice walked away with the Big Business of the Year accolade (in 2019 and 2020), Medigold Health are delighted to this year be sponsoring this prestigious award, to show our support for other businesses who are achieving great things within the region.
We are also very happy to reveal that we have been shortlisted for the Employer of the Year award!
As a company who are dedicated to putting our people at the heart of everything we do, it's a real privilege to have been nominated in this particular category, which recognises businesses that have created a stimulating and supportive work environment and have demonstrated a real commitment to the welfare of the employees.
We'd like to take this opportunity to congratulate all of our fellow nominees – we can't wait to celebrate with you all, in person, at the big night in November!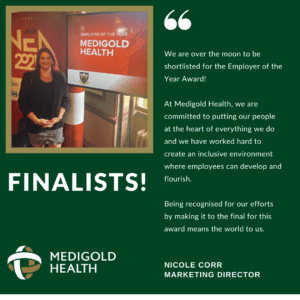 The Latest from our Blog…
Check out our blog for all of the latest news, events and updates from Medigold Health.
At Medigold Health, we are always looking for opportunities to promote careers in occupational health. Following the success of our 2021 summer work experience programme, we decided to run the scheme again this July, to give our colleagues' family members who have recently finished school the chance to gain valuable[...]

Read More

In our previous blog looking at the importance of wellbeing in the workplace, Medigold Health's new Director of Wellbeing, Dr Amrita Sen Mukherjee, explored the concept of workplace wellbeing and why investing in it can deliver multiple benefits for businesses. In this next instalment, she looks at some of the[...]

Read More

Over the last few years, the concept of workplace wellbeing has been steadily rising up the business agenda. But how important is it, really?

Read More
Can't find what you are looking for?