Webinar - Unlock the Power of Early Intervention to Reduce Employee Absence
We know that the challenges of managing employee sickness absence have increased significantly during the coronavirus pandemic, but at this time of economic recovery and renewal ensuring the health and wellbeing of your employees and keeping them safe and well in work has never been more important.
---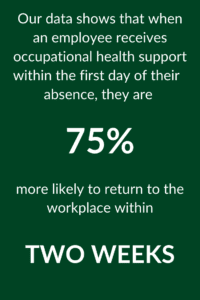 Early clinical intervention and signposting to appropriate advice and support should form a vital first step in any effective absence management strategy, helping to considerably reduce the amount of time an employee spends away from the workplace and increase the likelihood of a positive resolution.
However, we continue to find that many employers are still not seeking Occupational Health advice at an early enough stage in the absence journey for it to have a meaningful impact on the outcome of the case.
To explore this issue further, we recently hosted the latest in our series of free webinars, which was facilitated by April Cremins, Medigold Health's Absence Management Consultant; Chantal McDonald, Director of Medigold Health's Day One Absence Management service, Absentia; and Susan Pickering, Occupational Health Advisor for Absentia and specialist in absence management.
Simply hit play below to catch up on the recording of our webinar:
Find out more at: https://www.medigold-health.com/absentia/
The Latest from our Blog…
Check out our blog for all of the latest news, events and updates from Medigold Health.
The Environmental, Social and Governance (ESG) agenda is destined to become a core part of the business landscape. In this episode of Medigold Matters, host  John Griff chats to Medigold Health's Head of ESG, Jane Winter, on why every employee is responsible for ESG and what businesses can do to[...]

Read More

On 19th August, Jo Hughes, Operations Director for Medigold Health's alcohol, drug and COVID testing division, Hampton Knight, was interviewed across the airwaves by a number of radio stations, including Radio News Hub and Sky News, about why workplace COVID testing is still so important, even now that 80% of[...]

Read More

What an incredible 10 days it's been in the Tokyo 2020 Paralympic pool! We've been treated to some truly thrilling action and the GB team have pulled off some phenomenal performances, racing ahead to bring home an impressive collective haul of 8 bronze, 9 silver and 9 gold medals.

Read More
Can't find what you are looking for?