Webinar - Unlock the Power of Early Intervention to Reduce Employee Absence
We know that the challenges of managing employee sickness absence have increased significantly during the coronavirus pandemic, but at this time of economic recovery and renewal ensuring the health and wellbeing of your employees and keeping them safe and well in work has never been more important.
---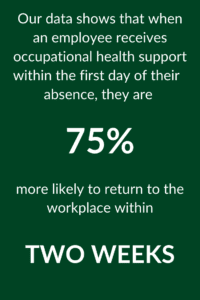 Early clinical intervention and signposting to appropriate advice and support should form a vital first step in any effective absence management strategy, helping to considerably reduce the amount of time an employee spends away from the workplace and increase the likelihood of a positive resolution.
However, we continue to find that many employers are still not seeking Occupational Health advice at an early enough stage in the absence journey for it to have a meaningful impact on the outcome of the case.
To explore this issue further, we recently hosted the latest in our series of free webinars, which was facilitated by April Cremins, Medigold Health's Absence Management Consultant; Chantal McDonald, Director of Medigold Health's Day One Absence Management service, Absentia; and Susan Pickering, Occupational Health Advisor for Absentia and specialist in absence management.
Simply hit play below to catch up on the recording of our webinar:
Find out more at: https://www.medigold-health.com/absentia/
The Latest from our Blog…
Check out our blog for all of the latest news, events and updates from Medigold Health.
For us to stay happy and healthy and be able to perform effectively at work, maintaining good mental health is essential. Here, we share some general advice from our experts at Medigold Health Perform on the key questions to ask if you are feeling low at work and the positive steps you[...]

Read More

Led by the Mental Health Foundation, Mental Health Awareness Week (9-15 May) aims to get people talking more about mental health and how we can all enjoy better mental wellbeing. The theme for 2022 is loneliness.

Read More

Human beings are social creatures, and when there is a discrepancy between the social connections we want or need and those that we actually have, it can leave us feeling lonely. Loneliness can result in many different emotions, from stress and anger to anxiety and depression, and in the long[...]

Read More
Can't find what you are looking for?