Giving youngsters a sporting chance!
Medigold Health have always been committed to investing in and making a positive impact on the communities in which we work and as part of this commitment, we regularly seek opportunities to sponsor local groups and social enterprises, particularly those that are close to the hearts of our colleagues or that aim to inspire and support younger generations to become involved in activities that promote good health and wellbeing and will help to shape their personal development for the future.   
---
One such group, whom we have been supporting since 2019, is the Pilsley FC U14s Boys Football Team in Northeast Derbyshire.  
Founded in 2014, the community football club started with just four teams, but now has a total of 18, including a junior football school for under 6's, girls and mixed teams and two adult teams competing in leagues in Sheffield, Chesterfield and Derby.  
Medigold Health Senior Account Manager, Dan Reet (pictured in the orange hat!), has dedicated his spare time to managing the U14s Boys Team since the 2018/19 season (when they were then the U11s) alongside his assistant, Matt, an NHS keyworker. The sponsorship we provide helps to fund both the team's home and away kits.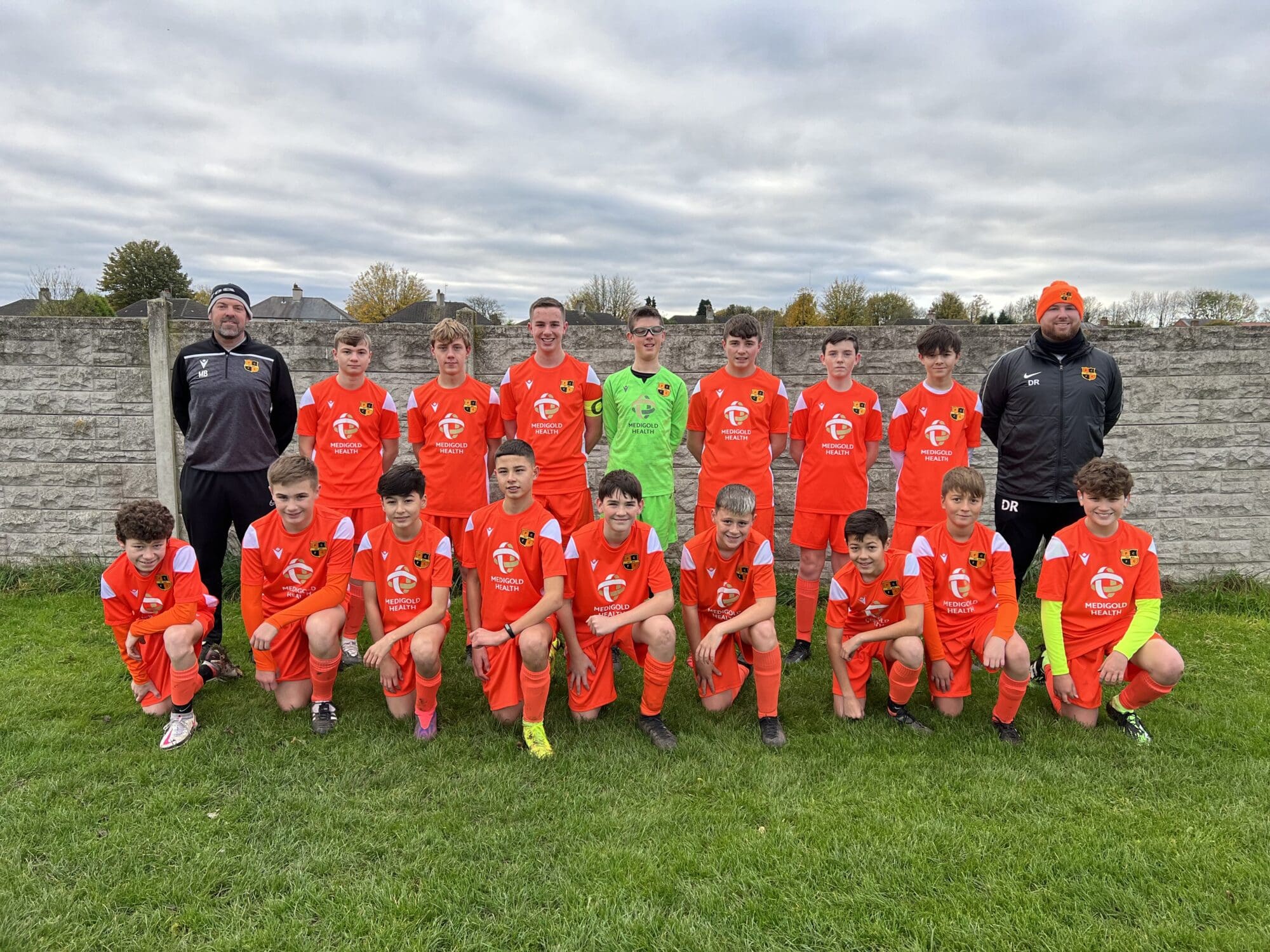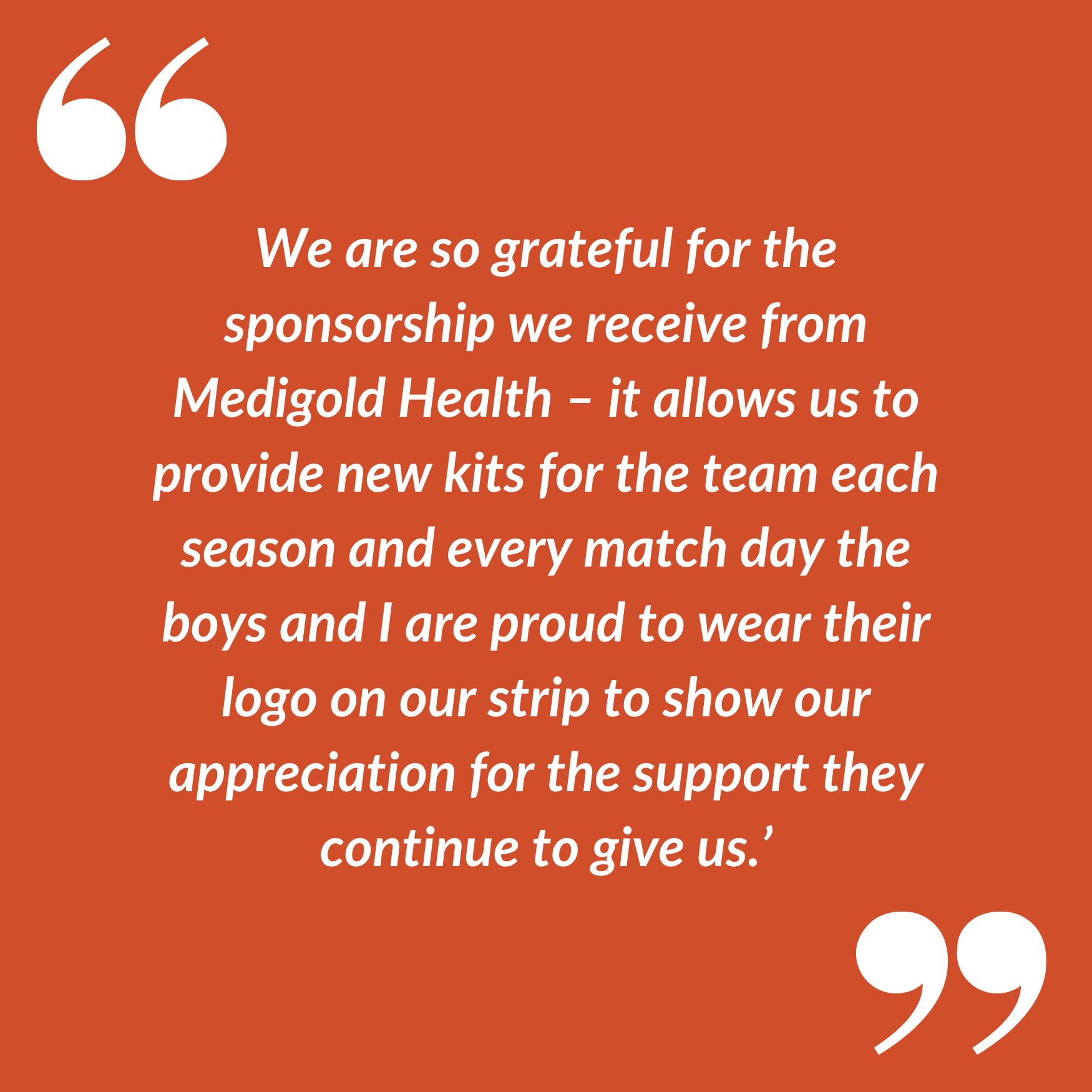 Dan explained that as a club, Pilsley FC focus on giving all the youngsters who play for them a positive experience of football, both on and off the pitch: 
'The club really brings communities together – the kids in our U14s Team come from eight different schools in Sheffield, Chesterfield and Rotherham. It's a great opportunity for them to meet and build friendships with other children from different backgrounds with whom they wouldn't normally mix, and we try to organise events outside of football as well, to give them the chance to socialise together. This season, for example, we took all the youth teams across the entire club to watch the Sheffield Steelers Ice Hockey team at the Sheffield Arena and more recently, we held a virtual Christmas golf and gaming night.  
'We want the boys to develop both as players and as people. There are so many wellbeing benefits and life-lessons that come from playing sport. Not only do the kids get to have fun while investing in their physical health and fitness, but they also learn about the importance of discipline, sportsmanship and working together as a team to achieve a shared goal, skills that will really set them up for whatever they choose to do in the future.' 
We couldn't agree more, and we feel very privileged that we are able to play a small part in supporting such a positive enterprise. We are also very proud to reveal that the hard work that Dan, Matt and all the U14s boys have been putting in this season has really paid off, with the team currently 4th in their league, just two points behind the leaders, having won five and drawn one out of the seven games they've played so far.  
We'd like to pass on our huge congratulations to the team on their great achievement and we wish them all the best of luck in their upcoming matches – we can't wait to see how they do! 
If you'd like to keep up to date with all the team's activities, check out their pages on Twitter twitter.com/PCFC14s  and Insta www.instagram.com/pilsleyfc14s   
The Latest from our Blog…
Check out our blog for all of the latest news, events and updates from Medigold Health.
At Medigold Health, we are always looking for opportunities to promote careers in occupational health. Following the success of our 2021 summer work experience programme, we decided to run the scheme again this July, to give our colleagues' family members who have recently finished school the chance to gain valuable[...]

Read More

In our previous blog looking at the importance of wellbeing in the workplace, Medigold Health's new Director of Wellbeing, Dr Amrita Sen Mukherjee, explored the concept of workplace wellbeing and why investing in it can deliver multiple benefits for businesses. In this next instalment, she looks at some of the[...]

Read More

Over the last few years, the concept of workplace wellbeing has been steadily rising up the business agenda. But how important is it, really?

Read More
Can't find what you are looking for?