Medigold Health named as a Top 100 Company in Northamptonshire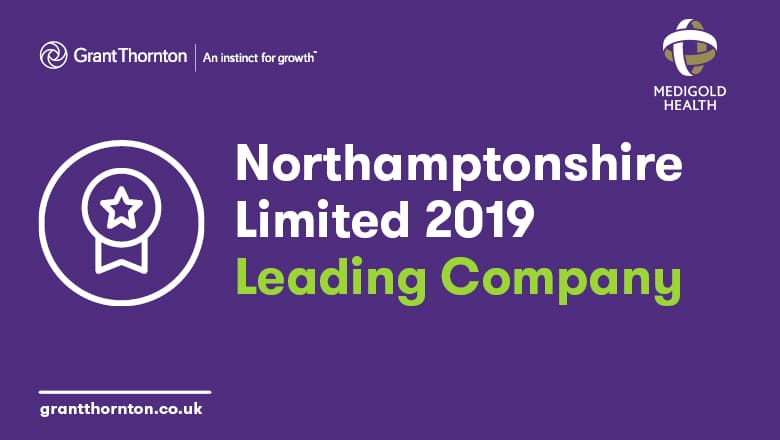 We are delighted to announce that, for the second year running, Medigold Health has been named as one of the top 100 Companies in the 2019 edition of Grant Thornton's Northamptonshire Limited.
What is Northamptonshire Limited?
Northamptonshire Limited is part of an annual series of business analysis by county initiated by Grant Thornton, which provides an in-depth financial analysis of the county's 100 privately owned companies based on turnover.
Key Findings
This year's analysis has shown that businesses in Northamptonshire have had a mixed year in the face of economic uncertainty, with a real spread between those performing strongly in terms of underlying profitability and growth, and companies that are facing challenging times.
We are delighted to feature in Grant Thornton's Top 100 Companies in Northamptonshire. As a business born and bred in the county, local accolades are the most precious to us at Medigold Health.

We know that the last 12-24 months has been both interesting and challenging for UK businesses and we have felt this first-hand. However, despite the uncertain political and economic backdrop, Medigold Health has more than doubled in size in the past two years. Collectively we are proof that with a consistent approach, stable management team and a talented and dedicated workforce, continued growth and success is possible.
The Latest from our Blog…
Check out our blog for all of the latest news, events and updates from Medigold Health.
The 3rd of December marked International Day for Persons with Disabilities, a day to raise awareness of individuals with disabilities and offer advice on how we can support them.

Read More

In the United Kingdom, a staggering 1.8 million working people suffer from work-related illnesses. This significant number highlights how important it is for employers to prioritise the health and wellbeing of their employees and the crucial need for Occupational Health services. If you've been asked to attend an occupational[...]

Read More

Within the last year, 74% of people have felt so stressed that they have been overwhelmed or unable to cope. 2nd November marks Stress Awareness Day, a day dedicated to raising awareness of stress, its symptoms and the long-term consequences. This blog delves into the different types of stress,[...]

Read More
Can't find what you are looking for?