Medigold Health named as a Top 100 Company in Northamptonshire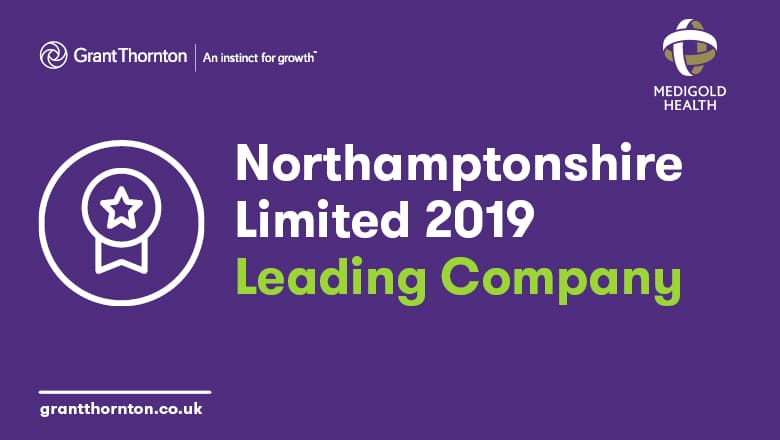 We are delighted to announce that, for the second year running, Medigold Health has been named as one of the top 100 Companies in the 2019 edition of Grant Thornton's Northamptonshire Limited.
What is Northamptonshire Limited?
Northamptonshire Limited is part of an annual series of business analysis by county initiated by Grant Thornton, which provides an in-depth financial analysis of the county's 100 privately owned companies based on turnover.
Key Findings
This year's analysis has shown that businesses in Northamptonshire have had a mixed year in the face of economic uncertainty, with a real spread between those performing strongly in terms of underlying profitability and growth, and companies that are facing challenging times.
We are delighted to feature in Grant Thornton's Top 100 Companies in Northamptonshire. As a business born and bred in the county, local accolades are the most precious to us at Medigold Health.

We know that the last 12-24 months has been both interesting and challenging for UK businesses and we have felt this first-hand. However, despite the uncertain political and economic backdrop, Medigold Health has more than doubled in size in the past two years. Collectively we are proof that with a consistent approach, stable management team and a talented and dedicated workforce, continued growth and success is possible.
The Latest from our Blog…
Check out our blog for all of the latest news, events and updates from Medigold Health.
With November being Men's Health Awareness Month, we took the opportunity to catch up with some of our male colleagues here at Medigold Health, to get their take on why it's important for men to engage more with their health, the challenges that often prevent them doing so, and their[...]

Read More

As proud signatories of the Armed Forces Covenant and holders of the Defence Employer Recognition Scheme Bronze Award, Medigold Health are honoured to count a large number of former military personnel among our colleagues.   With people and communities across the nation preparing to come together this weekend to pay tribute[...]

Read More

An Occupational Health Assessment (also known as a sickness absence referral, management referral or occupational health referral) is a medical examination carried out by a qualified Occupational Health clinician to assess a person's fitness for work and their capability to fulfil the duties and responsibilities of their role safely and[...]

Read More
Can't find what you are looking for?