Hampton Knight on Air – Why workplace COVID Testing is still so important
On 19th August, Jo Hughes, Operations Director for Medigold Health's alcohol, drug and COVID testing division, Hampton Knight, was interviewed across the airwaves by a number of radio stations, including Radio News Hub and Sky News, about why workplace COVID testing is still so important, even now that 80% of UK adults have been fully vaccinated.
---
While the 'pingdemic' that followed the ending of COVID restrictions has eased since the 16th August, when rules around self-isolation for close contacts who have been double jabbed were relaxed, the prevalence of coronavirus in the community remains high and, with fewer people now maintaining social distancing, infection levels are currently on the increase again.
Although research has indicated that infection rates for people who have received both doses of a COVID vaccine are three times lower than in those who are unvaccinated, it is still possible for them to contract and pass the virus on to others.
As more and more people are returning to 'normal' working, the potential impact of rising cases on businesses who are struggling to recover from the effects of the pandemic is huge. But, with the government no longer supplying free test kits to employers, many organisations may be unsure right now about what they should be doing in terms of carrying on with workplace testing.
This very question was addressed across the airwaves on 19th August by Hampton Knight's Operations Director, Joanne Hughes, who was interviewed throughout the day by a number of radio stations, including Radio News Hub and Sky News.
Speaking to a total of over 42 million listeners, Jo discussed the continued importance of COVID testing in the workplace for helping companies to quickly detect and isolate asymptomatic cases, to both minimise any disruption to their operations and productivity and ensure their staff stay protected. She also explored the potential issues associated with organisations passing the responsibility for testing back to employees, as well as the key considerations businesses need to make when looking to introduce an effective testing programme.
It's fair to say that she received a glowing reception, with Jools Oughtibridge, Content Producer at Radio News Hub, thanking her for "a very timely and important interview – clearly explained, and full of detail" and Darren Gamblen, Presenter at EXPRESS FM, commenting that she "was a brilliant guest, really knowledgeable, and right up to date with all of the latest developments".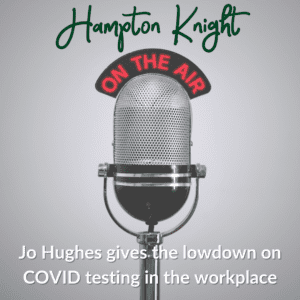 In case you missed Jo speaking live, we've compiled the key information from across her interviews into a short podcast, which you can listen to at any time below or via this link https://youtu.be/bCP4U9Btwag
The Latest from our Blog…
Check out our blog for all of the latest news, events and updates from Medigold Health.
At Medigold Health, we are always looking for opportunities to promote careers in occupational health. Following the success of our 2021 summer work experience programme, we decided to run the scheme again this July, to give our colleagues' family members who have recently finished school the chance to gain valuable[...]

Read More

In our previous blog looking at the importance of wellbeing in the workplace, Medigold Health's new Director of Wellbeing, Dr Amrita Sen Mukherjee, explored the concept of workplace wellbeing and why investing in it can deliver multiple benefits for businesses. In this next instalment, she looks at some of the[...]

Read More

Over the last few years, the concept of workplace wellbeing has been steadily rising up the business agenda. But how important is it, really?

Read More
Can't find what you are looking for?